I try hard to like Germany, after all my son is growing up here, but something about it just always fails to grab me. As if on cue when I crossed the ambiguous border driving up from Colmar, the clouds rolled in and it began to rain. It always rains when I am in Germany. It's always a bit gray, the buildings are darker and a little more foreboding, the food is not nearly as sublime as that of France, and there are words like "Umleitung" that simply bear no resemblance to anything. The language is impenetrable jibberish, and it always just seems rather gloomy.
I passed by Saarsbrucken (I'm not even sure if this was Germany or not), Luxembourg City was all points west (been to Luxembourg anyone?), past signs for Aachen, Koln, and then a million random, unknown towns you will never need to know about. To an American, driving around here may as well be a parallel universe – you recognize letters from the alphabet, you know how to drive the car, but nothing else makes any sense. It's a very strange place here, deep in the countryside of west central Europe.
My destination was Biersdorf am See, a village of a few hundred people where lives an acquaintance who would put me up for the weekend. This was a diversion, free accommodations, a chance to see places I had never seen before, and have some company on the weekend before further winery visits. Karin hosts many travelers, as well as African teachers through a local French/German/African cultural exchange organization.
To be fair, the countryside is beautiful. An endless blanket of rolling hills, pastures, cows, and wind turbines (7.7% of Germany's electrical power). They are not an eye soar by any means, as Nantuckans would have you believe. My only navigation aid was again the map of the whole of Germany, no GPS. And again, I relied on street signs to point me to successively smaller towns. My rule now is if a trip take 10 minutes, I allow at least 30 minutes for driving in circles, scale accordingly. This was by all accounts "the middle of nowhere," Deutschland style.
Onward past Trier, I pointed towards Bitburg (fond memories of the very good Bitburger Pilsner over the years), and the tiny village of Biersdorf am See just beyond. Closing in on narrower and narrower streets, searching for "a lake" where to meet my friend, there was a boy and girl walking their dog. I stopped and asked if they spoke English.
"Oh yeah."
"Is there a lake or something down here?"
"Yup, keep going straight, can't miss it, it's really pretty." He replied in perfect English with American accent.
"Hm. Are you American or something?"
"Yes."
I paused, bewildered, and thankful my direction was positively confirmed.
What the hell are there are a couple of teenage Americans doing out here? I would find out soon enough.
I met my friend and we returned to her family home. Joining us soon would be Silvio, a young Italian guy who was riding his bike from Holland back to Rome. The three of us would have a splendid weekend together sharing new experiences.
(Above: 4th of July fireworks as seen from Spangdahlem Air Base, near Bitburg, Germany.)
Turns out, there is a huge American military base here with 20,000 Americans. I knew there were some bases here in Germany, but I had not idea where. Karin has some American friends here in the military, so we all went to watch the fireworks. We threw a football around: myself, a guy named Brian, a German friend named Andy, and Silvio. It was pretty funny to see them try to throw a football. Someone drove by in a Mustang. I felt like I was in Kansas.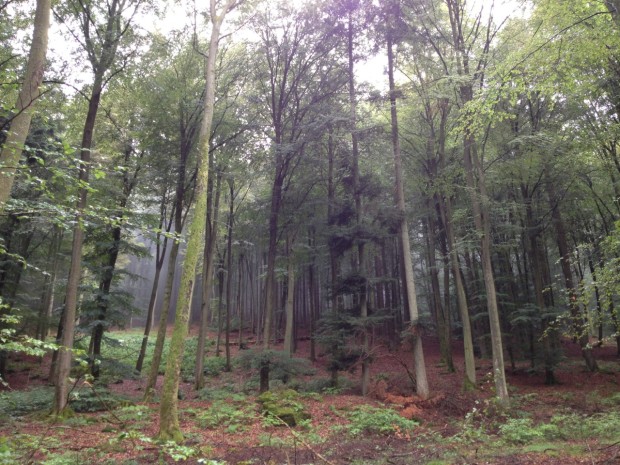 (Above: Schloss Hamm, a little known castle hidden up in the woods.)
(Above: Milking a damn cow for the first time ever.)
(Above: At a BBQ by a local cultural exchange organization.)
Saturday evening we went to another bbq at the home of some US servicemen in the area. We watched a football match and had a great time.
As of Sunday afternoon now, I just arrived in Bernkastel-Kues, a picturesque little town on the Mosel, and location of Dr. Thanisch Weingut, where I will visit tomorrow. I drove up along the Mosel River, past one town after another, and had lunch in Trittenheim, where Clusserath is located for tomorrow. Indeed, just like the pictures, the vineyards scale steep slopes from the river banks upwards. The roads winds along and it's quite picturesque (when it's not raining). ,  More pics tomorrow, peace out.